The glitz and glamor in Las Vegas isn't limited to the neon jungle of The Strip.

The market for Las Vegas luxury homes is as hot as the summer sun, and some of the most fabulous homes you can find anywhere are up for grabs.

These breathtaking properties are available in all parts of this sprawling desert city of 635,000, which has exploded in population and popularity during the last several years.

Some of these incredible mansions look more like resorts shimmering under the desert sun, featuring every amenity imaginable, including swimming pools and lush landscaping.

If you are interested in searching for Las Vegas Luxury homes, the first step is to find a seasoned real estate agent who knows how to secure one of these mega properties. A good agent knows how to help clients navigate the process, including outlasting others in a bidding war for a dream home. Also, be sure to have financing lined up for what will be the biggest purchase of your life.

While some of these ultra-luxurious homes go for tens of millions of dollars, even homes in the $1 million range have been snapped up during the pandemic. In addition, real estate experts say there has been an influx of people moving to Las Vegas to escape crowded urban centers in states like neighboring California, where the real estate dollar doesn't go nearly as far as it does in Nevada.

Sales of million-dollar homes surged at the height of the pandemic, as did the sales of custom lots where people can have their dream homes built. Among them was Las Vegas Raiders owner Mark Davis, who sold one custom lot for $10.5 million and then turned around and purchased a six-acre lot in Ascaya for $6 million. Davis, who moved his team to Sin City before the 2020 season, has a custom home built.

Real estate experts say the Las Vegas luxury homes market is so strong that there is a $12 million, Mediterranean-style mansion under construction in Southern Highlands on spec. It has been described as being more than 18,000 square feet on just more than one acre. It will have nine bedrooms and 12 bathrooms.

Here's a sampling of some Las Vegas luxury homes currently on the market: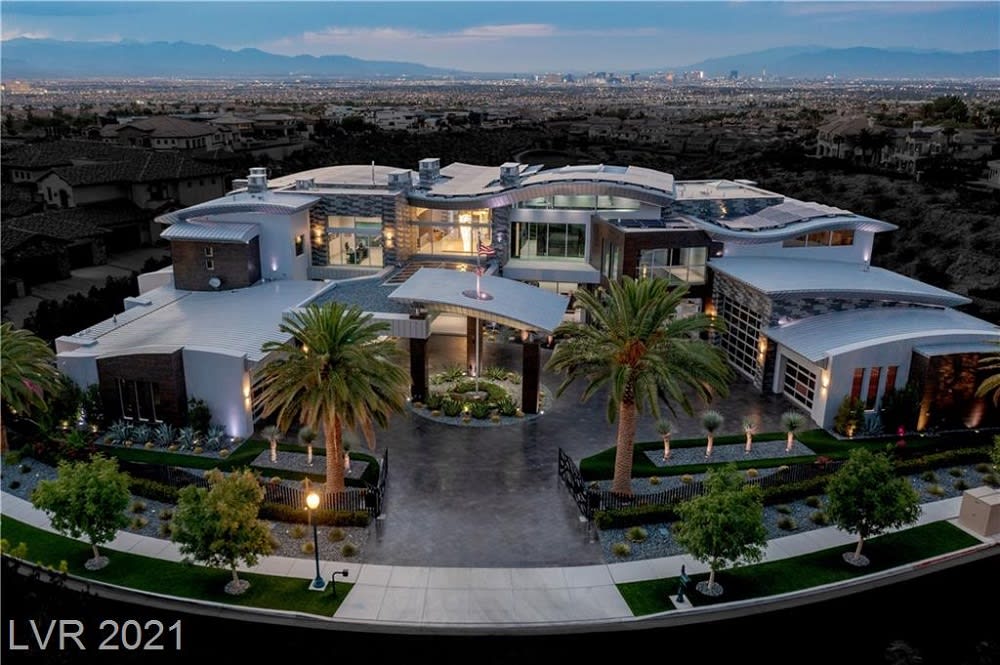 $32.5 million

Four bedrooms, two full baths, nine baths total

14,207 square feet

This three-story estate, fronted by a gorgeous, deep-blue swimming pool, has 26,416 square feet under the roof and offers pretty much every amenity available. It has a spacious owner's suite, a glass elevator, and three climate-controlled garages that can accommodate up to 12 vehicles. There is a car lift that brings a vehicle directly to the second-floor owner's suite. The home has several automated systems, including cutting-edge security systems and an entertainment system that is second to none. There are fabulous views of the city, the mountains, and a golf course.



$27,450,000

Seven bedrooms, four full baths, three partial baths

57,056 square feet

This remarkable gated ranch might be the most mind-blowing property in all of Vegas. It includes a main mansion, seven other homes, a car museum, a zoo for housing exotic animals, and a Fokker F28 jet and terminal, all located on 39 acres. It also has two Arabian horse breeding stables with dozens of stalls plus an equestrian pool and pastures for horses to roam freely.

This is truly an oasis in the middle of the desert, with Artesian wells and lakes.
$19,500,000

Six bedrooms, ten bathrooms

13,592 square feet

This stately European villa is a breathtaking display of gorgeous architecture and attention to detail. Situated on 1.5 acres, this residence's spacious lot grants homeowners coveted privacy while maintaining easy access to all the city's amenities.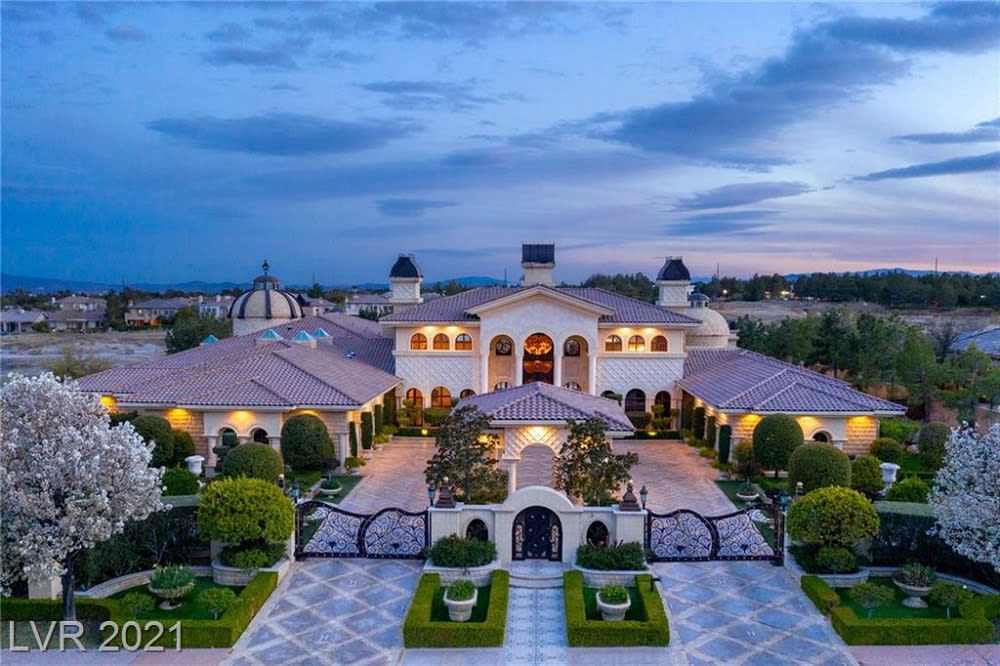 $16,000,000

Seven bedrooms, six full baths, three partial baths

16,696 square feet

This spectacular European-style estate in Queensridge is named "Villa Piedra," which means house of stone. The attention to detail and craftsmanship make this mansion pop. The interior highlight is a living room of 2,700 square feet, with 30-foot ceilings. There is also a movie theater, library, and garage parking for seven vehicles, including room for a boat or RV. The backyard looks and feels like a resort with a large pool and fountain.
$13,900,000

Eight bedrooms, eight full baths, three partial baths

18,908 square feet

This mansion in Summerlin does have the look and feel of a resort because it was built on two lots. The backyard alone is a major selling point, featuring a resort beach-style pool with a slide, a cave, waterfalls, spa, and an outdoor kitchen, all surrounded by tropical landscaping. There is also a large lawn. Inside, be prepared to be blown away by a basketball court and gym that takes up an entire level. There is also a 13-seat theater, elevator, and staircases on both sides of the house with access to all four levels.

These are just a few of the many ultra-luxurious homes on the market in Las Vegas.
Contact Lisa Quam for assistance if you plan to buy or sell luxury homes in Las Vegas in 2021.