If you're looking for a luxurious place to call home, Las Vegas is the place for you. With a wide variety of homes available, from sprawling single-family estates to opulent condos and townhomes, there's something for everyone in this city of luxury homes.
Types of homes
Las Vegas has multiple types of homes, and the most frequently seen are single-family, condominiums, townhouses, and multi-family properties.

Single-family
A single-family home is a great option for those who want plenty of space and privacy. This type of Las Vegas real estate is typically larger than other property types and comes with a yard or gardens that allow you to enjoy the great outdoors without having to leave your property.


Single-family property often includes 3+ bedrooms and 1.5+ bathrooms, and for luxury properties, the size can be quite massive, with square footage above 5000 and often even above 10,000. If you're looking for a spacious and luxurious place to call home, a single-family home in Las Vegas may be right for you.

High-rise penthouses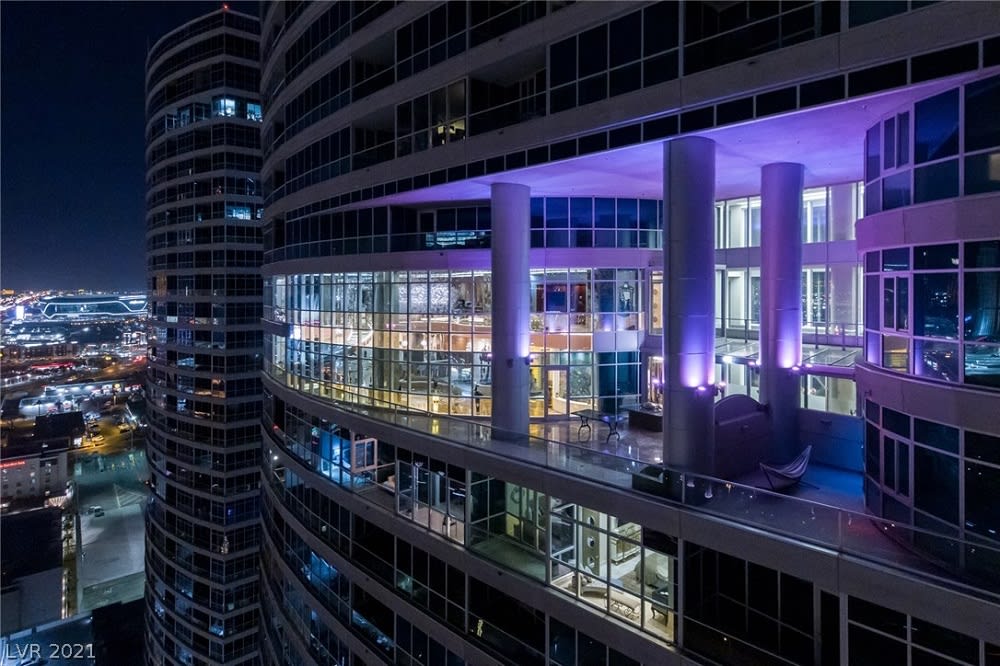 Image courtesy of Lisa Quam
There are many stunning high-rises in Las Vegas, and for those who want a residence in the heart of the city and with many luxury conveniences, this is the direction to go. Whether you live in the penthouse or in one of the luxury apartments on lower floors, there are many property amenities, such as pools, gyms, and clubhouses. These luxury buildings come with high monthly HOA fees that contribute toward the common elements and amenities. Owners are usually not responsible for repairs of the property's exterior but are responsible for repairs and upgrades to the interior of their Las Vegas real estate.

Townhouses
Townhouse homes for sale in Las Vegas typically share at least one wall with a neighboring property. As with condo homes for sale in Las Vegas, townhouse residents may share common areas and amenities. Townhouses are similar to single-family Las Vegas real estate in that the owner is responsible for repairs and upgrades to the interior and exterior of the property. Townhouses are usually a minimum of two stories tall and have fewer square feet of interior compared to single-family properties.

Estates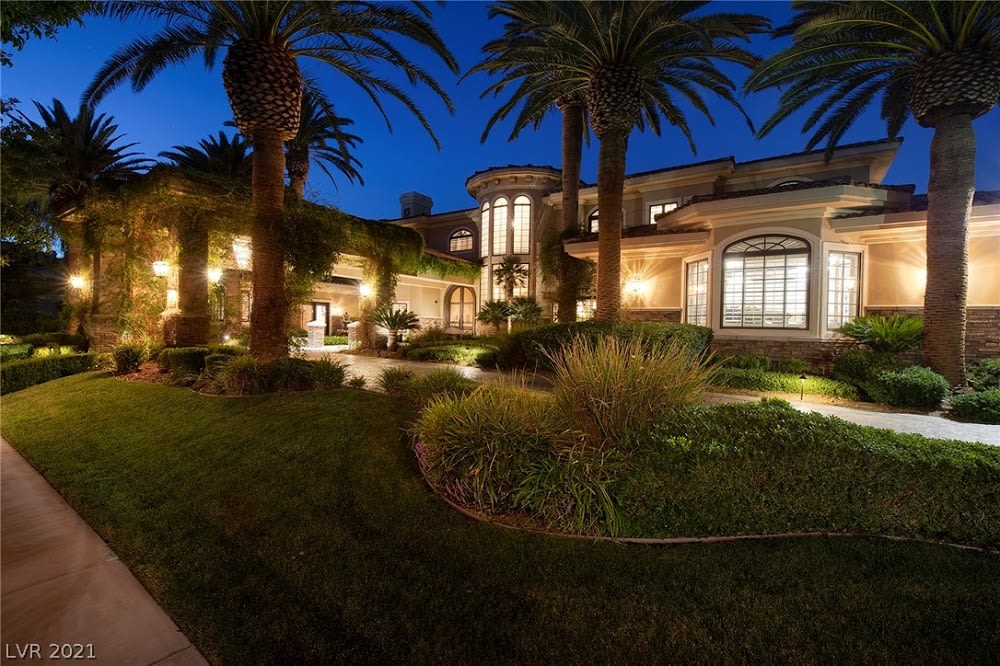 Image courtesy of Lisa Quam
Farther from the bustle of the strip, buyers will find sprawling, gated properties of many styles. These large estates often come with multiple buildings, tennis courts, pools, access to golf courses, and more.
Architectural styles
The architecture in Las Vegas is heavily influenced by European design and features plenty of Mediterranean, Spanish, and Tuscan styles. Additional popular styles in the area include Ranch, Tudor, and Pueblo.

Mediterranean
The
Mediterranean
architecture style is characterized by its red roof tiles, arched windows and doors, and plaster resembling adobe. These homes incorporate elements popular around the Mediterranean Sea, from architecture seen in the Balkans, Cypress, France, Italy, Greece, Lebanon, and Turkey.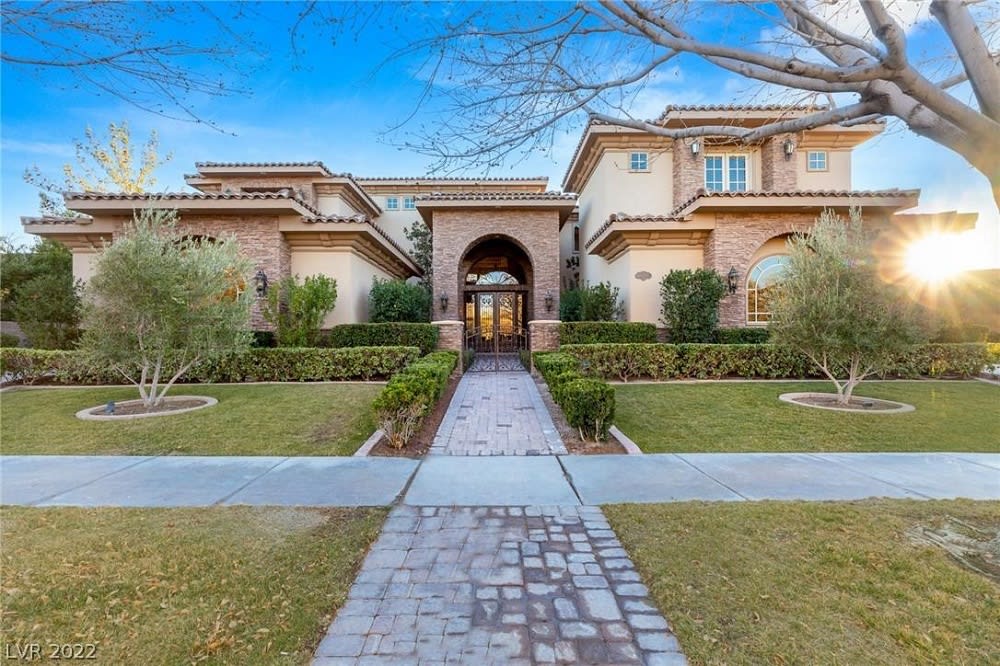 Image courtesy of Lisa Quam
As you look at homes for sale in Las Vegas, you'll see Mediterranean homes with red roof tiles, arches, ornamental details such as heavy, ornate wooden doors, and stucco walls on the property's exterior. If you're looking for a luxurious home with a touch of European charm, the Mediterranean architecture style may be right for you.

Ranch
Ranch
homes for sale in Las Vegas are immediately identifiable for their single-story or split-level structure with an open floor plan. Properties of this type usually sprawl horizontally across the land on which they are planted. When looking at Las Vegas real estate, you can further identify ranch properties by their large windows, low-pitched roofs, overhanging eaves, back porches, and attached garages.

Tudor
The
Tudor
style is frequently seen in homes built from 1900 to 1950, and many are grand mansions with an overall asymmetrical building with a steep gabled roof.
Buyers looking at homes for sale in Las Vegas can also identify Tudor properties through the use of half-timbering; exteriors made of brick, slate, stucco, or stone; arched and decorative entryways; massive chimneys (often more than one since multiple fireplaces are also common in the Tudor style); and multi-paned casement windows often seen in a diamond pattern.

Spanish
Las Vegas real estate in the
Spanish
style is similar to the Mediterranean style, notably for the red-tiled roofs and use of stucco. Spanish homes are easily recognized for their white stucco walls, asymmetrical facades, bell towers, square pillars, arched corridors, and quatrefoil windows. The homes often also have exposed beams.

Pueblo
The
Pueblo
style can be identified among homes for sale in Las Vegas for its massive wood ceiling beams, porch posts, and doors; walls made of adobe, stucco, mortar, or concrete; a rounded exterior; flat roofs with low walls that rise above the main roofline; square windows; and central courtyards. The thick walls help regulate indoor temperatures, which can be beneficial to buyers looking at Las Vegas real estate.

Tuscan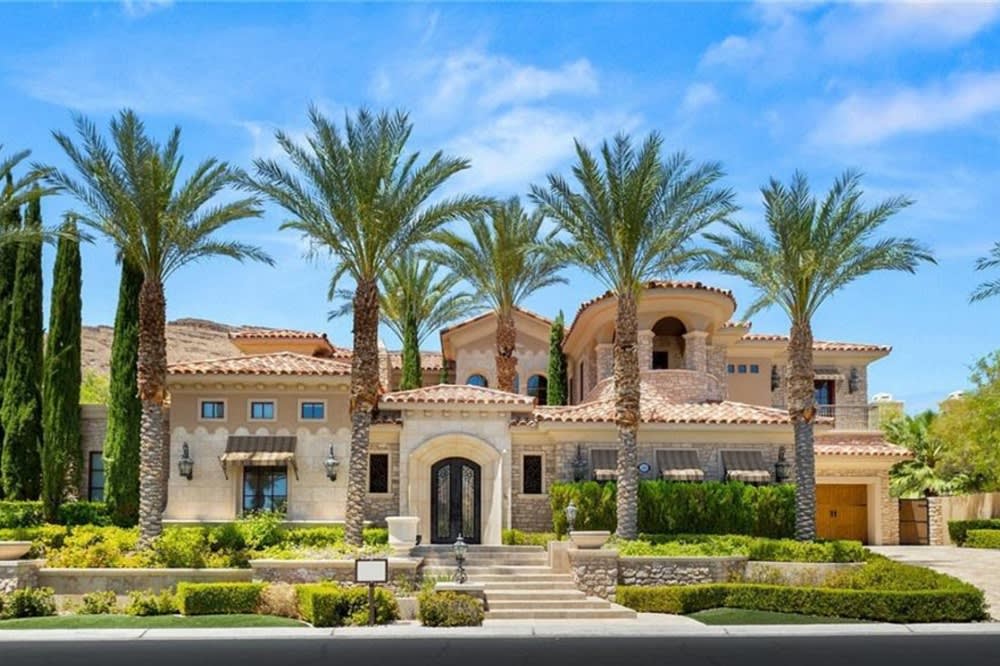 Tuscan
-style homes for sale in Las Vegas usually have terracotta tiled roofs and floors, thick walls made of limestone, marble, sandstone, or travertine, and an outdoor living space such as a loggia, patio, or portico. These homes are also recognizable for their incorporation of decorative wrought iron doors and gates. It is common to see interiors with white walls of plaster or stucco, vaulted ceilings with wooden beams, and mosaic art flooring. In more modern or recently upgraded Tuscan-style homes for sale in Las Vegas, it is also common to see hardwood flooring instead of tile.
Searching for homes for sale in Las Vegas?
Whether you're looking for a spacious single-family home, a high-end condo, or a multi-family investment property, there's sure to be a luxurious option that's right for you in Las Vegas. With so many different types of homes and architectural styles to choose from, you're sure to find the perfect piece of Las Vegas real estate to call your own. For assistance with buying or selling luxury Las Vegas real estate,
contact Lisa Quam today
.

*Header image courtesy of Lisa Quam