Las Vegas is home to all things eclectic, and the restaurants there are no exception. Sin City, which seems to never sleep, has become a hub for celebrity chefs and Instagram-worthy photos. With restaurants on every corner, packed next to each other, it can be overwhelming and hard to choose the most exciting places to try. Award-winning restaurants are a great place to start, and some of the country's best dishes are on a Las Vegas restaurant menu. We've gathered a list of the most luxurious, award-winning Las Vegas restaurants to help make your meals just as exciting as the casinos.


Restaurant of the Year

La Strega was named the 2019 Restaurant of the Year. This restaurant offers inspired Italian cooking with a coastal feel. Head chef Gina Marinelli brings her experiences from Italy to the menu through exciting flavors. Gina brings dishes and traditions to La Strega, many of which she learned from her grandparents, who came from Lake Como and Sicily. She features menu items filled with old-world charm while incorporating a modern flair and staying true to the Strega vibe. As you dine on these delicious Italian meals, you'll experience the beautiful dining room and lounge designed to make you feel right at home amidst the luxury and charm.

The La Strega menu features handmade pasta dishes, pizzas, and an expertly curated wine list. However, fan favorites on the La Strega menu include classic and unique dishes such as the:

◾ Margherita pizza
◾ Nutella whipped mouse
◾ Octopus carpaccio
◾ Truffle pizza
◾ Pesto pizza
◾ Stracci
◾ Grilled artichoke appetizer
◾ Rigatoni bolognese

The list goes on as every dish at La Strega is perfectly executed with a tremendous amount of flavors and a beautiful presentation. La Strega is quickly becoming a famous, hidden gem, so be sure to make a reservation and ensure you'll get a taste of this delicious Italian food.

Find these delicious La Strega dishes at 3555 S Town Center Dr Ste 105, Las Vegas, NV 89135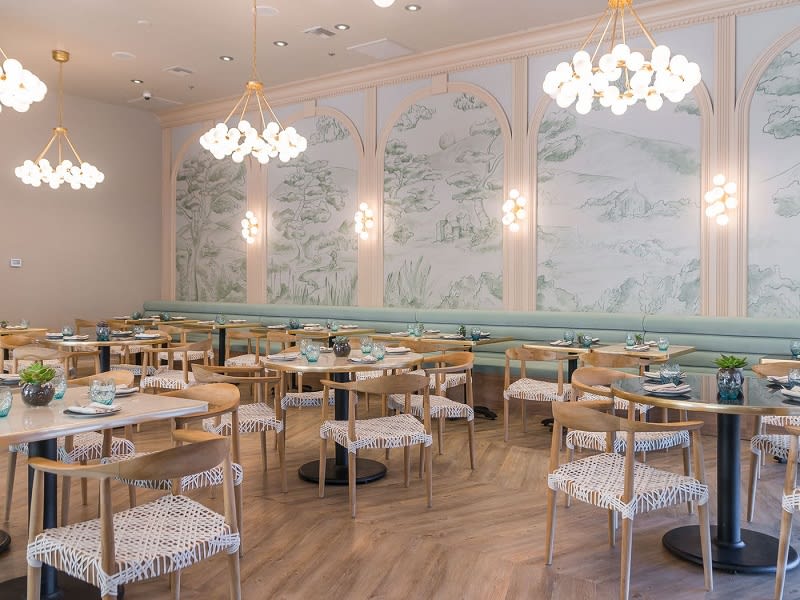 Credit: Vegas Eater
Design of the Year

Best Friend is a restaurant like you've never seen before, earning it the title of design of the year. Best Friend is a Korean-style barbecue restaurant with roots in the Park MGM. Upon arrival, guests will enter a liquor storefront. Here you can grab a seat at one of the barstools for a quick bite to eat. If you want to venture into the main dining room, you must find the hidden entrance. The entrance is concealed behind a pink plastic freezer door. From there, you'll enter a vibrant dining room filled with rainbow hues, endless amounts of plants, a mural, and even a DJ booth. Best Friend embodies everything LA, in the heart of Las Vegas.

While the restaurant's design is extraordinary, the dishes don't disappoint either. The entire menu at Best Friend is spectacular, but here are the dishes that Korean American chef Roy Choi says are the highlights:

◾ Soondubu — spicy veggie stew, tofu, sesame
◾ Spicy Pork — thin-sliced belly and shoulder, gochujang, sesame
◾ Slippery Shrimp — crispy rock shrimp, chili mayo, walnuts

Find this strategically designed restaurant and its delicious dishes at 3770 S Las Vegas Blvd, Las Vegas, NV 89109
Forbes Five-Star Award Recipient, AAA Five Diamond rating

Le Cirque in Las Vegas is a recognizable name, one that carries a legacy. Your experience dining at Le Cirque will be unforgettable. The restaurant is situated on the lake to provide extraordinary views complimentary of the bold atmosphere and dishes. Le Cirque's dining room was designed by Adam Tihany as a colorful celebration. This high-end dining experience features a French-style cuisine prepared by the team's talented staff.

The menu at Le Cirque has earned itself several awards, including a perennial AAA Five Diamond Award Rating, a Forbes Travel Guide 5-Star Rating, and a Michelin One-Star Award. The menu is bursting with flavors that will immerse your senses in some of the best French-styled dishes accompanied by an extensive wine list. While each dish has its own unique flavors and strengths, the menu's highlights include the following dishes:

◾ Lobster and Avocado Salad — haricot verts, black truffle vinaigrette
◾ Maryland Blue Crab — Russian osetra caviar, ocean smoke
◾ Hamachi — Japanese yellowtail, avocado, heart of palm, yuzu mirin vinaigrette

The experience you'll have at Le Cirque will leave you wanting to return. The atmosphere and food are one that you'll remember for years to come, and Le Cirque will likely become a favorite each time you return to Las Vegas.

Find these creative dishes and colorful atmosphere at Bellagio Hotel & Casino, 3600 S Las Vegas Blvd, Las Vegas, NV 89109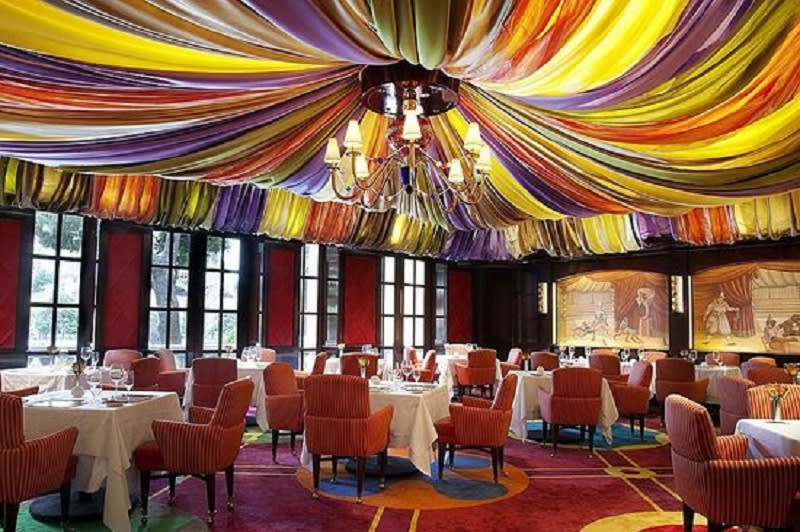 Credit: Trip Advisor
Michelin's Three Star Winner, Forbes Five-Star Award Recipient, 13 time AAA Five Diamond award winner, Wine Spectator's Grand Award

Joël Robuchon's restaurant in Las Vegas is pure French perfection. Dishes here are curated by Joël, head chef and famous French chef. Joël Robuchon has earned himself and his restaurant numerous awards. These awards include:

◾ Chef of the Century — by Gault Millau in 1989
◾ Meilleur Ouvrier de France in cuisine — in 1976
◾ Best French Restaurant — by Las Vegas Life International Epicurean Awards
◾ The Best Chef in Las Vegas — by Las Vegas Life International Epicurean Awards
◾ Hot Tables Award — by CondeNast Traveler
◾ Five-Star Award — by Forbes Travel Guides from 2006-2011
◾ Best French Restaurant in Las Vegas — by Hotel Concierge Association from 2006-2010
◾ The Laurent Perrier 2009 Lifetime Achievement Award — at the S. Pellegrino World's 50 Best Restaurants in 2009
◾ AAA Five Diamond Award
◾ Wine Spectator's Grand Award
◾ Three Michelin Star Award

As you can tell, your experience at Joël Robuchon's will be nothing short of amazing. The decor inside the restaurant embodies a luxurious Art Deco townhouse, fitting with the French vibe. The indoor space is complemented by a lush garden terrace providing guests with an intimate experience.

Joël Robuchon is one of the highest-ranked Chefs in the world, providing guests with sophisticated plates. The entire menu is bursting with flavors and creativity, but these famous dishes will transport you to a quaint French restaurant:

◾ Le Cavier Imperial — osetra caviar served in a crustacean gelee dotted with a cauliflower purée
◾ L'Oeuf de Poul — crispy soft-boiled egg in light Comte cheese sauce with Iberico de Bellota ham
◾ Le Sphere — bubble sugar sphere filled with blackberry yogurt sorbet, candied lemon, and a violet cream

Whether you visit Joël Robuchon's restaurant to enjoy the 16-course menu or you're there for a relaxing night on the terrace, your experience will be unparalleled - leaving you without question as to how Joël Robuchon has earned his list of awards.

Find these French cuisine styled dishes at 3799 Las Vegas Blvd S MGM Grand, Las Vegas, NV 89109
Forbes Five-Star Award Recipient, 15 time AAA Five Diamond award winner

Picasso's menu is inspired by the cuisines of France and Spain, where Pablo Picasso spent his life give the restaurant its recognizable name. The inspiration extends beyond the name and finds its way to the dining area. Pablo Picasso's paintings and ceramic pieces fill the restaurant walls with loads of charm and history.

Executive Chef Julian Serrano has earned the restaurant the AAA Five Diamond Award eleven times. To top off this artistic and beautifully decorated restaurant, Julian Serrano decorates the tables with some incredibly created dishes. The most talked-about dishes on the menu include a:

◾ Pan Seared U-10 Day Boat Scallop — potato mousseline and jus de veau
◾ Roasted Maine Lobster — flying fish caviar, crème fraîche vinaigrette
◾ Halibut — green asparagus and sauce hollandaise
◾ Quail

Picasso's dishes are accompanied by fully stocked wine cellars with over 1,000 selections to choose from, all from European vineyards. The warmer months bring guests out to the Bellagio patio, which overlooks the romantic Fountains of Bellagio. If you're heading to Las Vegas in the heat of the summer or the cooler months and want to dine outdoors, Picasso is equipped with cool misters and heat lamps to make your visit exceptional.
Find these French and Spanish inspired dishes at 3600 S Las Vegas Blvd, Las Vegas, NV 89109
————
The list of award-winning restaurants and must-have dishes in Las Vegas is endless. If you're interested in exploring them all, consider making Las Vegas home or a frequent stop. Lisa Quam, a Fine Home Specialist, has been serving the Las Vegas community for over 15 years. Her experience and expertise contribute to her full understanding of the buying and selling process from beginning to end. Regardless of what stage you're in, Lisa knows exactly how to deliver. From condos in Las Vegas to top tier luxury properties, Lisa Quam real estate can help you find the most luxurious homes to suit your palette. Your home shouldn't be a gamble, and with Lisa's professionalism and experience, you'll hit the jackpot!